Photos of Lifts below are shown with Optional Top Coat; Standard Finish is Shop Primer only.
Always add additional boat stands or dunnage AS the trailer is removed.
The owner of this 20' Robolo added additional boat stands AS he pulled the
trailer out, for safety, and kept the Lift attached to move them around as needed.
The only recommendation here is, even if you have to lower the boat back down
to the trailer in the beginning of the process to re-pin the Trapeze at the
Pivot Stand one hole higher, it is better to end up in as close to level position
as possible from beginning to end such as the photo below.
Newer lifts all have more adjustment holes such as the photo below; four inches
on center in stead of eight inches on center.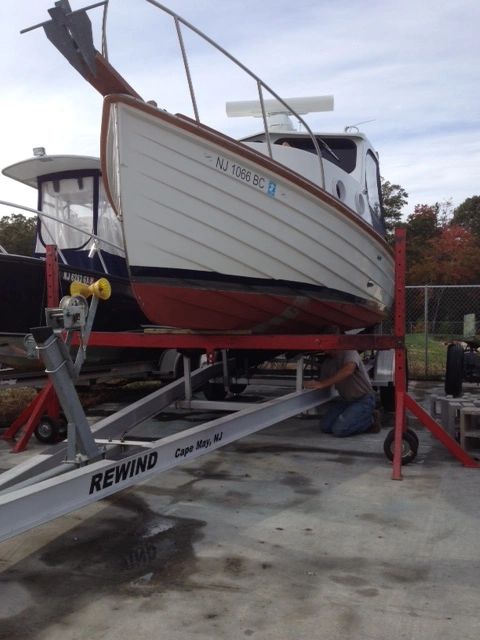 HERE is a picture of Phil w/CPS Marine getting creative with the Portable Boat Lift!!!
"Lou, hope all is well with you. We're getting busy again up here and as always, the lift works great. Thought I'd send you this pic, custom 28' Grover diesel. No bow eye, no problem....enjoy...."
Phil w/CPS Marine 2/25/13
Portable Boat Lift on display every day for 2 years outside, used on their entire fleet of rental boats. Those are SOLID, not hollow, concrete blocks used for dunnage with a 2 X 8 on top.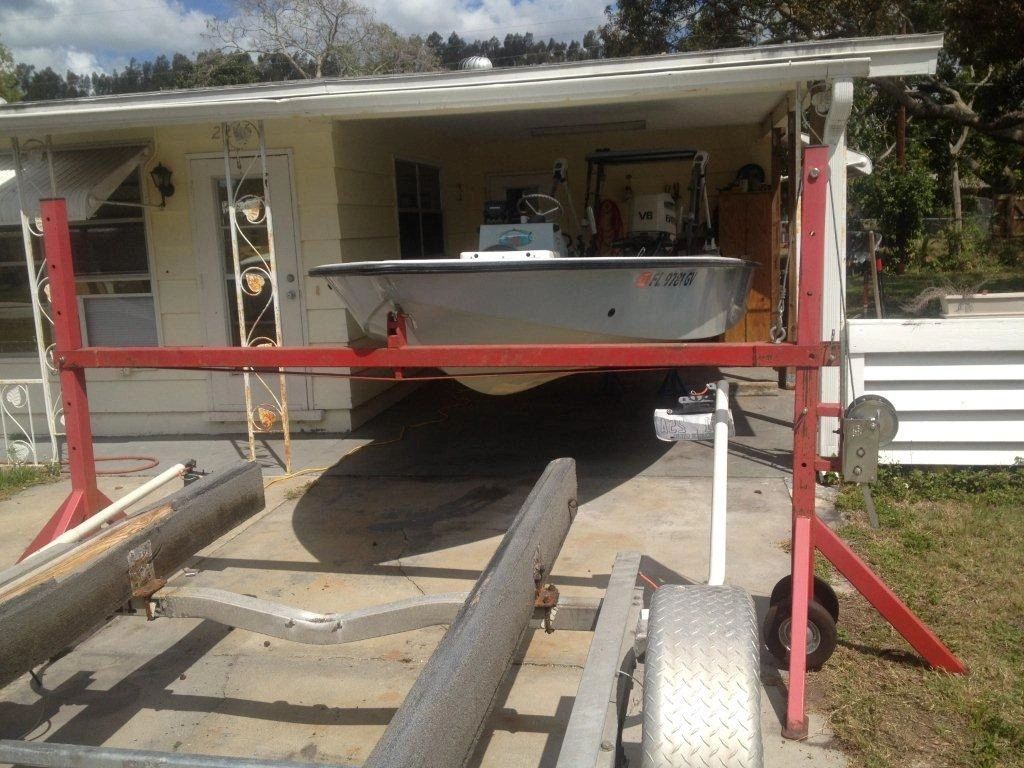 Older model of Portable Boat Lift still working great. Used to make all needed repairs to the trailer right at home! Notice the Guide Poles are bent down to clear the Trapeze. Notice the level position of the Trapeze. Notice all three Safety Pins are installed, one at the end of the Trapeze through the Pivot Stand, one through the end of the Tabs on the Trapeze at the Winch Stand, and one through the Winch Stand at the first hole available under the Trapeze. Additional Dunnage should have been installed under the boat as the trailer was being pulled out for Safety.
"I fish for a living. Anytime I have to get my boat off my trailer right here at home, right where my tools are, portable boat lift works for access on bottom work and the never ending trailer repairs, especially in this salt water."
Thanks, Kelly w/ Tide Tuit Inshore Fishing, Sarasota, FL